fireplace

Create something relaxing and enjoyable to use.  With plenty of choices, our collection of patio plans for straight houses feature designs of all shapes and sizes that include some of your favorite accessories to help you create an outdoor living area that is affordable, colorful and comfortable.  From small to big, curvy to square, patios with warm fire pits and fireplaces, grill stations and outdoor kitchens, shady pergolas...you can easily choose a patio that fits your lifestyle and budget.
Choosing the right patio is the hard part, we've made building it the easy part.  Whether you're the installer or hiring one, our downloadable patio plan will seamlessly take you from start to finish.  Each plan includes installation guides, fully dimensioned layouts and easy to follow how-to's so you know exactly how your outdoor living are will be built before you ever start.  And to make estimating and ordering material quick and accurate, we include an itemized material lists for ALL components of every patio.  
01. Patio Designs for Straight Houses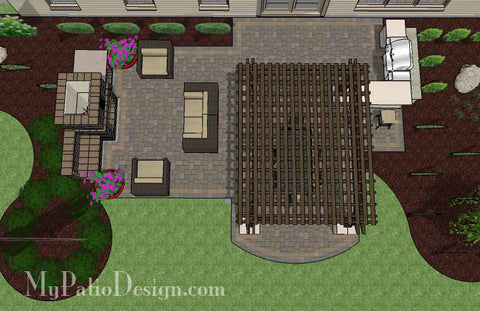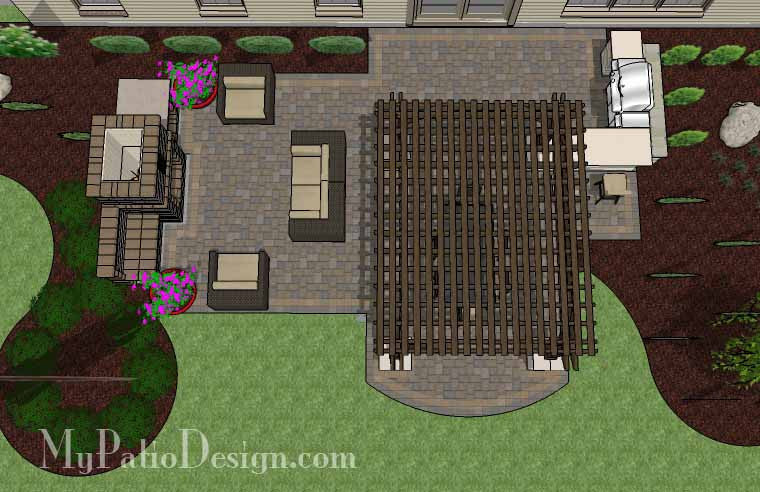 635 sq. ft. - Large Outdoor Living Design with Pergola and Fireplace
$ 80
The Large Outdoor Living Design with Pergola and Fireplace brings all your favorite luxuries into a patio you will love to use.  Space for a large outdoor dining table will be covered by a beautiful 12' x 16' cedar pergola, which yields a refreshing retreat from the hot summer sun.  The outdoor bar is incorporated into the built in grill station...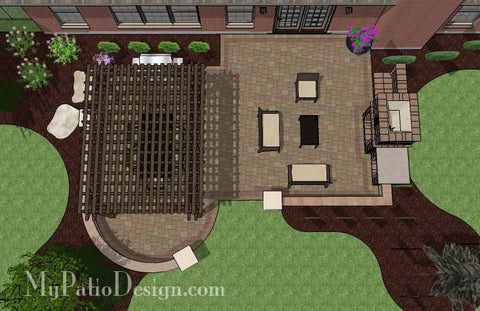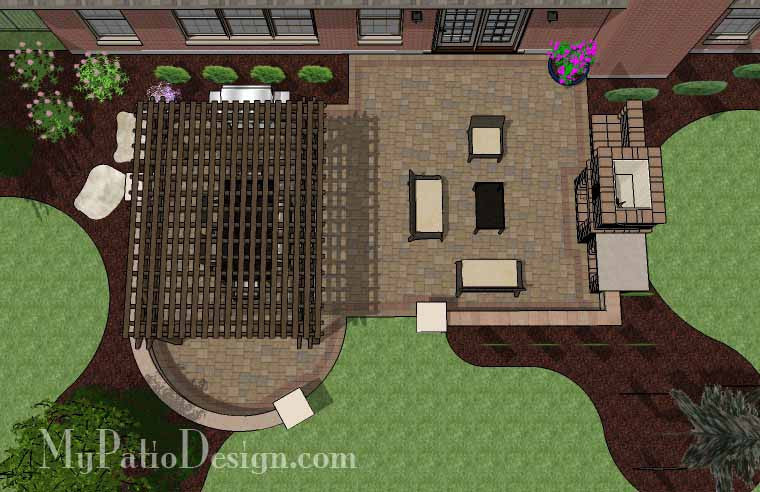 660 sq. ft. - Traditional Patio Design with Seating Wall, Pergola and Fireplace
$ 90
 The Patio Design.  This traditional patio design with a seating wall, pergola and fireplace has plenty of extras. It is truly the ultimate design for fun and functionality. The designated grilling, dining and lounging areas means you'll be able to enjoy every part of your patio day and night. The outdoor fireplace provides year-round beauty and...